Introduction
Our company, Kiss-Excenter Ltd was established in 1994, which is an economic association with an exclusively Hungarian ownership.
We are suppliers for several major Hungarian companies as well as we have contact with a wide range of international enterprises. We supply goods to Germany, France, Spain, Switzerland, England, Brazil, Australia and Singapore just to mention a few.
Our main profile is stamping, turning and assembly technology. We produce and assemble parts for electromechanic, electric and other electrical meters as well as electric appliances.
The production is done on a 1300 m² area within easy access. Our plant is 2 kms away from Budapest, in the vicinity of motorways M0 and M3, in the village of Nagytarcsa.
Due to the increasing number of orders we get and in order to meet our customers' demands as perfectly as possible, in 2013 we built a new, modern 1200 m2 production plant in the industrial park in Nagytarcsa. Because of the higher and higher requirements we divided the production into two parts. The turning and assembly processes are still done in the old plant, whereas the management and stamping moved into the new plant.
In our turning and assembly machine park you can find Variomatic, Mikron, Eubama, OKU and Ketterer round- and long table processing centres and automatic screwing machines.
Our stamping machines are EBU, Haulich, Heilbronn, Colombo Agostino and Sangicomo Press make. Our smallest stamping machine has 5 ton closing power, the biggest has 100 tons.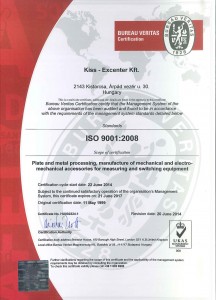 Our additional activities are removing grease and oil, washing parts with an environment-friendly technology, for which we use Steimel automatic washing equipment.
We do the assembly jobs in a special area separated from the production dedicated for this purpose in a so-called "clean" hall, which complies with the tightest quality requirements.
Since the beginning our main objective has always been to serve our customers at the highest standard as possible. To help us achieve this ambition of ours we have an ISO 9001:2008 quality management system, which we introduced in 1999 and we have been developing it since then.
We have a good relationship with our suppliers, therefore we can purchase our raw materials and integrated parts at a favourable price, thus, we can ensure a competitive price for our customers.
Our team is a qualified, flexible company of people that can cope with any kind of tasks completely, who do not know impossible whether it is a new product or a part needing modernization. Our objective is to develop the technology continuously so that our customers can get faultless products with the shortest delivery time possible.